I am often asked my thoughts around the "best" time to leave a steady job before transitioning fully into your business or career.
In most cases, this is what I would recommend:  
Until you can love it, do not leave it!
I'll be honest… my answer may not always be a fan favourite, especially if you feel frustrated with your current role and are ready to get out of there. 
But the truth is if you cannot leave it from love, you are wise to wait until you can.
Here's why…
There are two ways you can leave something. 
You can leave it from inspiration and love, or you can leave through desperation and fear. 
If you don't take the time to balance out your charges to see both sides and have gratitude for what you are currently doing, you will likely just repeat the same patterns and lessons in your next role. 
As Dr. John Demartini teaches, what you do not love, you attract, create, or become.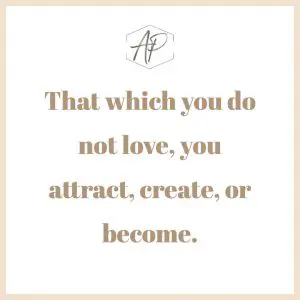 Essentially, you'll keep repeating the same lesson until you learn to "love" it and see the perfection in it. 
Here's an example of what it looks like when you leave from desperation. 
A friend from a mastermind group was working a corporate job working for a Fortune 500 company. After being with the company for a few years, she began resenting it and wanted to leave to do something else. She felt like her boss didn't appreciate her and was too controlling. 
Rather than doing her inner work to find the gratitude in her current role and leaving from love, she left out of desperation, which came in the form of resentment towards her boss and the company. 
She ended up taking a role in an upcoming business where she was drawn to the freedom to create and an easy-going boss. 
After a few weeks, after the job's novelty wore off, she started experiencing similar feelings of resentment and became frustrated with her boss. 
This time it was because of the extra responsibility and lack of financial stability. Soon she started to miss the structure and the opportunities her other job had provided her. 
After a few months in her new role, the business experienced greater financial issues, and she was out of a job.
On the flip side, I have a client who transitioned from love by doing her inner work, and the outcome was very inspiring!
Whether it's a career, relationship, house, etc. unless there is a safety concern, it is wise to take your time, learn to love what you are doing and then leave from inspiration.
See how it is serving. Learn as much as you can. And at the end of the day, if you still can't love what you're doing. Then leave it! 
Life's too short to be doing something you hate. But at least you know that since you took the time to do your inner work, you're choosing to leave because you want to (which is inspiring).
This process is crucial because it helps you increase your self-worth and confidence, which are key ingredients to success.
So once you know that you are leaving from love, what are the next steps in transitioning into your business or a new career?
Be sure to tune in next Thursday for my new blog, where I answer just that. 
In the meantime, if you are looking for more information on how to take your career and business to the next level, my Career Fulfillment Masterclass is coming up soon.
In this workshop, I personally walk you through my 3- step process that will help you:
Discover what's most important to you and have a plan you can implement right away.

Experience new levels of inspiration, creativity, and gratitude in what you do.

Achieve new levels of career and business success.
The workshop is designed to help you have the clarity, tools, and strategy to move forward faster from inspiration and love!